The Best Belgard Pavers and Wall Block Retaining
Belgard Pavers and Wall Block Retaining Walls are now available in the Redding, Northern California Area.  Home owners, contractors and developers are welcome here.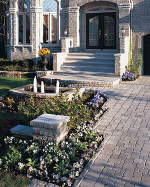 Belgard Architectural Products Group provides a range of architectural masonry products including Belgard interlocking concrete pavers, block retaining walls and masonry veneers to homeowners and professionals. Products include the traditional and antiqued paver and wall series. All Belgard products have a long history of successful applications on thousands of residential and commercial projects throughout the United States and Canada. Commonly used applications for our concrete pavers include driveways, walkways and patios. Belgard products complement any landscape while adding beauty to both new and existing homes.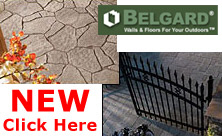 The quality of the concrete used to manufacture Belgard products is rigorously monitored at all times. Each day, in all plants, finished products are systematically sampled and are put through comprehensive tests. These tests include measuring resistance to temperature extremes, effects of de-icing salts, product stability, consistency of mixture and load-bearing capacity, among many other physical and chemical characteristics.
Belgard concrete pavers and retaining walls will enhance the aesthetics and value of your client's property. With a wide selection of colors, shapes and finishes, these products enhance any architectural style from Craftsman to Contemporary and Mission to Mediterranean.
Vic Hannan's  professional staff is committed to providing the tools and solutions you need to assist with your toughest landscaping and hardscaping challenges. Belgard sets the standard for landscape design ideas and innovation. See for yourself. Contact us today for a look at what Vic Hannan and Belgard can do for your reputation to mention your projects! Click Here for More Paver Information
NEW ! Arbel Stone
– The Look of Natural Flagstone
Thanks to a revolutionary process, BELGARD has once again demonstrated its talent for innovation by offering a paver that looks more like natural stone than any other material.

Click Here for More Information

NEW ! Urbana Stone
– Natural Appearance of Clean Cut Stone
This is Urbana, our all-new modular paver. Once again, BELGARD has led the way in creating an innovative and unique product that meets the needs of the most up-to-date landscaping trends. Click Here for More Information


Bergerac Pavers
Available in:
Lajolla Blend
Rio Blend
Sierra Blend
Toscana Blend
Mega Bergerac

Dublin Cobble
Available in:
Lajolla Blend
Rio Blend
Sahara Blend
Sedona Blend
Sierra Blend
Toscana Blend
Dublin Circle

Cambridge Cobble
Available in:
Lajolla Blend
Rio Blend
Sahara Blend
Sedona Blend

Holland Stone
Available in:
Lajolla Blend
Rio Blend
Sahara Blend
Sedona Blend
Sierra Blend
Toscana Blend
Call for a FREE Estimate – 530-243-3037  – info@vichannan.com